During the 2013 Shanghai International Printing Week, 3D printing became a shining star at the exhibition. In fact, 3D printing is not new. It has appeared many years ago, but it has developed rapidly in recent years. During this exhibition, the author enjoyed a lot of exquisite printed works, from ordinary printing to energy printing, from printing daily decorations to printing bones, parts, cultural relics, etc. The audience must have been captivated by these wonderful technologies. I do n't know if any audience really understands the principle and working method of this technology. Below I will briefly take a look at the 5 working methods of 3D printing technology and briefly introduce their respective working principles.
3D printing technology concept
3D printing technology is a technology that uses powdered metal or plastic stools to bond materials based on digital analog files to construct objects by layer-by-layer printing. 3D printers appeared in the mid-1990s, that is, rapid prototyping devices using light curing and paper lamination technologies. It works basically the same as an ordinary printer. The printer contains liquid or powder "printing materials". After connecting to the computer, the blueprint on the computer is turned into a physical object through computer control. Today, this technology is used in many fields, and people use it to make clothing, building models, cars, food, and so on.
5 ways of 3D printing
SLA-Stereolithography
SLS-Selective Laser Sintering
Lamination method (LOM-Laminated Object Manufacturing)
Fused Deposition Modeling (FDM-Fused Deposition Modeling)
3DP-Three Dimensional Printing
Insulate Silicone Water Bottles
Our Silicone Collapsible Water Bottles are made of 100% medical grade silicone and 100% food grade PP material, medical grade silicone
is the same material as baby nipple; all of them are FDA, BPA free, LFGB certifications approved, can be fold into a wallet size after drink up,
that will save a lot of space for your bag when you are traveling, sporting and doing other outdoor activities.
We are honored to be trusted by Nike, New Balance, Locknlock, Target, Wal-mart for over 8 years, all of our foldable water bottles are deisgn
and producing by our own factory, we have a experienced R&D team, skilled worker, strict QC team, passional sales team and after service team
that can provide you one stop solution for our order, please contact our sales to start this happy journey.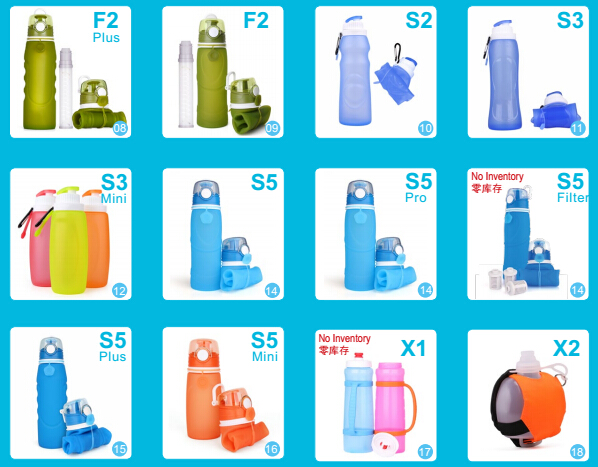 For more: Outdoor Collapsible Silicone Water Bottles, Sport Foldable Silicone Water Bottles, Filter Silicone Water Bottles , Silicone water bottles
Insulate Silicone Water Bottles
Insulate Silicone Water Bottles,Silicone Squeezable Water Bottle,Insulate Water Bottles,Silicone Foldable Water Bottles
Shenzhen Kean Silicone Product Co., Ltd. , https://www.keansilicon.com